Regular price
Sale price
$56.87
Unit price
/
per
Sale
Sold out
Essiac is a Dietary Supplement that supports the immune system.
𝟏𝟎𝟎% 𝐏𝐋𝐀𝐍𝐓 𝐁𝐀𝐒𝐄𝐃 – The natural herbal remedy, Essiac, helps normalize the body by aiding in the promotion of effective detoxification of the blood, liver, and lymph nodes

𝐏𝐎𝐖𝐄𝐑𝐅𝐔𝐋 𝐀𝐍𝐓𝐈𝐎𝐗𝐈𝐃𝐀𝐍𝐓𝐒 – Essiac is formulated to contain an abundance of powerful antioxidants to aid in promoting overall health and well-being. Since 1922, our Essiac traditional tea formulation has contained a proprietary blend of Burdock Root Extract, Sheep Sorrel Extract, Slippery Elm Bark Extract, and Indian Rhubarb Root Extract

𝐂𝐎𝐍𝐂𝐄𝐍𝐓𝐑𝐀𝐓𝐄𝐃 𝐄𝐗𝐓𝐑𝐀𝐂𝐓 𝐂𝐀𝐏𝐒𝐔𝐋𝐄𝐒 – The herbs are macerated, then the vital plant nutrients are extracted at low temperatures to ensure maximum potency and superior absorption

𝐐𝐔𝐈𝐂𝐊 𝐀𝐍𝐃 𝐂𝐎𝐍𝐕𝐄𝐍𝐈𝐄𝐍𝐓 - Unlike the traditional Essiac herbal tea powder, no need to brew as the vital plant nutrients have already been extracted into a powerful herbal capsule that is 4x to 6x more concentrated than the brewed tea

𝐓𝐇𝐄 𝐎𝐍𝐋𝐘 𝐀𝐔𝐓𝐇𝐄𝐍𝐓𝐈𝐂 𝐄𝐒𝐒𝐈𝐀𝐂 – During the early 1920's, nurse Rene Caisse was given the formula by a Canadian Ojibwa Healer. She later prepared her original herbal formula into a drink called Essiac, which is Nurse Caisse's name spelled backwards, and she dedicated the remainder of her life to caring for patients with her powerful formula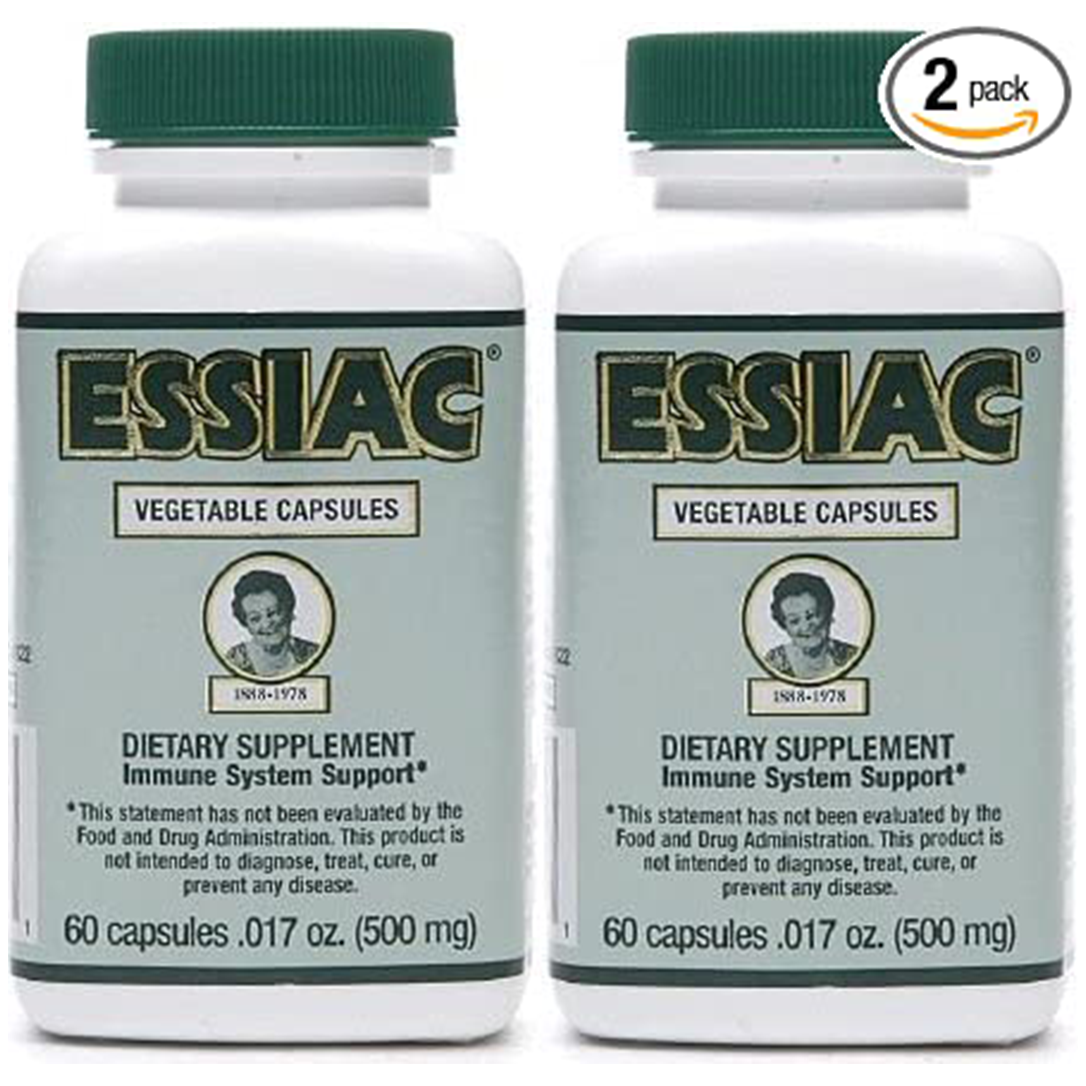 Sign up for the latest news, offers, and styles
Choosing a selection results in a full page refresh.